Need a little help in your weight loss journey? Maybe you're stuck in a rut, having trouble getting
over a hump, or are bored with your diet regimen. We know what that's like and how frustrating
it can be, which is why we wanted to provide you with some good advice and proven tactics that
you may not know about to help move you along. Instead of drudgery, we want to help make eating for weight loss more fun, simpler and a bit more effective, as well as give you some alternatives to everyday routines.
Let's get started...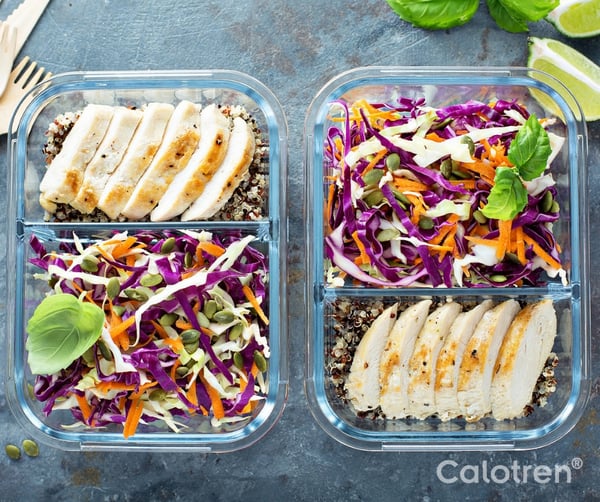 1. Bulk Preparation
Most weight loss programs require that you prepare your own food, rather than eat out. Doing this three times a day can wear a person out, so why not prepare your food in bulk? Breakfast burritos can be wrapped in wax paper and then foil and frozen for weeks, ready to pop in the microwave. Double your dinner recipes and put the extra in bento box meal prep containers some for the freezer, others for lunches. Chop up salad ingredients for lunches and put them in mason jars, ready to grab and go. Like those fruit smoothies? Chop all your fruit and portion it out into Ziploc bags or Tupperware and freeze. In the long run, this will not only save you time, but you will build a store of meals in your freezer on days when you don't have the energy to cook...meaning you'll be able to keep on your diet without resorting to fast food on your way home from work.
2. Buy New Plates
I know, you think this is a crazy idea, but in actuality choosing a smaller plate size has been shown to reduce food intake. Researchers culling through over 50 studies on plate size found that reducing the plate size by 50% led to a 30% reduction in food consumed on average. Look for 10 inch plates with a wider rim, so the surface area for food is smaller. Find a pattern that you'll enjoy eating off of and it will make for a more enjoyable dining experience. While you're at it, you might get some smaller bowls too!
3. Farmer's Markets
Kill three birds with one stone by visiting your local farmer's market. If you're lucky there is one within walking distance and if not, you can do laps around the market marveling at the fresh produce, taking a sample here and there and making your purchases for a week of healthy eating. Make it a social occasion by hanging out and listening to music or meet a friend for coffee. You'll be getting some exercise, do some of your shopping, and you're helping a local farmer.
4./5./6. Food Preparation Tools:
You've got a busy life and fitting in a specific diet and regular fitness just adds to an already crowded schedule. You can make your life easier with certain culinary gadgets.
Instant Pot: One of the hottest food prep tools on the market is the InstantPot, a multi cooker that combines a pressure cooker, slow cooker, rice cooker, steamer (fish and veg), sauté pan, and more. For those of you with space limitations, it's a godsend (and comes in 3, 6, and 9 quart sizes). Most have smart programs so you can cook what you want at the push of a button and it will keep your food warm for you until you're ready to eat. The Instant Pot allows you to set it and forget it when you leave for work, or if you forgot to defrost dinner, you can pop some frozen chicken breasts in with some herbs, wine or juice and be eating 15 minutes later. A versatile kitchen tool, it will make finding recipes and cooking fun (and quick) again.
Crockpots/Slow Cookers: Another great option that allows you to roast a chicken, make a stew or soup, and keep dinner warm for latecomers. Slow cooking allows the fat to cook off most cuts of meat, which you can skim off the top and avoid ingesting. Plus there is the convenience of putting all the ingredients in before work and coming home to a completely cooked meal. Check out these healthy crockpot recipes for easy weeknight meals.
Immersion Blender: This is a great and versatile tool for the small kitchen that doesn't cost an arm and a leg, and comes in handy when prepping your weight loss meals. It's perfect to puree soups, making them thicker and creamier, eliminating the need for additional butter or cream. You can easily whip up a healthy smoothie, make your own low cal mayonnaise (or flavored aioli), and a week's supply of low cal salad dressing. Maybe you want to make a little pesto for your whole wheat pasta? A low cal veggie dip with cottage cheese? No problem. And to get you started to check out these "40 Recipes to Make Using Your Immersion Blender."
7. Herbs
Fresh herbs are really what can take a dish to the next level. While you can buy just about any herb at the store, you rarely need a whole bunch of anything, so why not plant your own? Plants like rosemary, oregano, thyme, sage, and chives grow easily with nothing more than water every few days and can survive easily in a container or out in the dirt next to your roses. In many states, rosemary grows all year long, while the others will renew in the spring. You can add fresh herbs to roasted potatoes or vegetables, soups, stews, poaching liquids, or roasts. And they'll make your house smell good too.
8. Join a CSA (Community Supported Agriculture)
CSAs provide fresh farm to table produce in a model of cooperation that benefits farmers and local citizens. Local farmers, who might have a difficult time selling crops by themselves, band together in a service that provides weekly boxes of their produce to the community. Interested consumers enroll for a weekly or bi weekly box, which either gets delivered to a central location, delivered to your door or picked up at the farm. What you get is vine ripened produce that tastes superior to what you can get in most stores, and you're often introduced to new varieties or whole new types of fruits or vegetables, as well as herbs, that allow you to be a bit more creative in your cooking. It's a win win situation for you and your farming community. To find a CSA near you, check out Local Harvest and their extensive listings of CSAs.
9. Learn About a New Cuisine
Many international cuisines feature foods that are full of flavor, easy to prepare and healthy too. Try quick stir fries in a wok, a spicy Thai beef salad with chilies, mint and cilantro, Mexican tortilla soup, or an Indian dal with a dollop of fresh unflavored yogurt. Or go out and explore at certain international restaurants, where dishes are typically healthier Japanese sushi, grilled kabobs at a Greek restaurant, a Burmese tea leaf salad. Get out of the same old rut and find something that tantalizes your palate and leaves you satisfied.
10. Meal Delivery Services
This is a revolutionary new food preparation tool that takes most of the prep out of the equation. Someone else does the shopping for you, measures out the ingredients, provides a tasty recipe, and all you have to do is a bit of chopping and cooking. Most meals can be prepped in 20-30 minutes. Hello Fresh, Plated, and Blue Apron are three examples of this type of service. Their food is fresh and healthy, convenient, easy to prepare and has minimal packaging. Oh, and they taste good too! There are also food delivery services that cater to vegan, vegetarian, kosher,low salt,low carb, etc.
11. Recipe Rotation
Do you find yourself eating the same thing every day? Tired of carrot sticks and smoothies? Then it's time to change it up. There are several ways to do this, and it really depends on your own preferences. Cookbooks can be a great inspiration, both in recipes and the commentary by the author. We highly recommend that you head to the library to source out weight loss cookbooks that suit your type of diet (low fat, keto, Weight Watchers, Atkins, etc.). Once you find what you want (and it may take several visits), then you can buy a copy from your local bookstore or an online retailer. Alternately, you can spend some time while on the treadmill perusing Pinterest and its millions of recipes with pictures, find a food blogger with your same aesthetic, or look for YouTube channels that can show you new ways to cook and eat healthily.
12. Rub It Up
Grilling is one of the healthiest ways to cook foods, as no fats are involved, but you need more than a little charcoal to flavor your meat. The best grillmasters know the secret to flavor is a rub and how well they infuse flavor into proteins, and you can do so at home without packing on a lot of additional and unnecessary calories. Dry rubs are all the rage these days and can be found in any grocery, butcher shop, or specialty store. These rubs work well for the grill as they don't cause flare ups or for the meat to burn as a wet rub can. All you have to do is massage a good rub into your fish, poultry or meat just before grilling. For a more intense flavor, rub it up an hour or two beforehand, wrap in plastic wrap and refrigerate.
13. Spices and Seasonings
Early incarnations of diet food were bland and tasted like cardboard. One way to perk up any meal, healthy or not, is to use fresh ingredients and add herbs or spices. There is a variety of premixed seasonings available on the market that add a punch like Emeril's Cajun Seasoning and Paul Prudhomme's Seafood Magic, quite a few low salt alternatives, plus curry powders, chili powders, and other international spices.
14. Spike Your Water
Hydration is one of the most important components of any weight loss program. It helps to keep you feeling fuller, and it's a no calorie alternative to sugary sodas and other high calorie beverages. It's recommended that you drink a minimum of eight 8 ounce glasses of water per day and more during exercise. Take your water to the next level by spiking it with some flavor without adding a load of calories. Try slices of lemon, lime, and cucumber, whole blueberries or halved strawberries, or chunks of watermelon or pineapple. You can also opt for sparkling water, which pairs well with balsamic vinegar. Try one of the blends, like honey ginger balsamic, Blenheim apricot balsamic, or cranberry pear balsamic.
15. Technology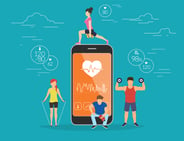 Is there an app for that? As you probably already know, there is an app for everything and weight loss is no different. There is a wealth of apps that can help you in your weight loss journey and between PCs, tablets, and phones, we're plugged in the majority of our waking hours, so why not let technology help make dieting and exercise more fun? Effective apps include those that have calorie counters, healthy recipes, weight loss trackers,and exercise trackers. Oftentimes there are communities surrounding apps so that you can share successes, failures, and find a buddy to work out with. Using an all encompassing app that is cross platform My Fitness Pal, Lose It!, My Diet Coach makes it super easy to log your daily calories, exercise, water intake, sleep, and tracks your weight loss and inches loss. Five minutes a day tracks all you need to know and allows you to see your weight loss journey in charts and graphs in real time.
16. Treat Yourself
One of the most difficult things for most people to eliminate from a diet is sweet treats. There's often a feeling of deprivation and punishment, which is the last thing you need when you're trying to keep a positive attitude. You don't have to deny yourself, you just need to be judicious and find things that work for you. If you like frozen treats, try Breyers Pure Fruit Popsicles,Jamba Juice Sorbet & Yogurt Bars or Trader Joe's Coffee Latte Bars, all under 100 calories. If you like chocolate, try Ghirardelli 60% Dark Chocolate Squares (just 50 calories) or Trader Joe's 100 Calorie Belgian Dark Chocolate Bars. If you're on a name brand diet like WW, Atkins, South Beach, you can easily source their own treats to keep you satisfied. Indulge without the guilt and put a smile on your face!
17. Supercharge Your Results
When it comes down to it, eating healthy for weight loss feels better when you're seeing results in the mirror every week. In order to get the most out of your healthy diet be sure to use all of the tools at your disposal. We're not talking about crazy stimulants or living off someones proprietary concoction for 30 days. Instead, give your body the support it needs to feel fuller longer, recover from exercise more quickly, sleep more restful, and burn fat more quickly. A high quality collagen supplement is the place to start. For example, stimulant and drug free Calotren has all of these benefits for you to enjoy.