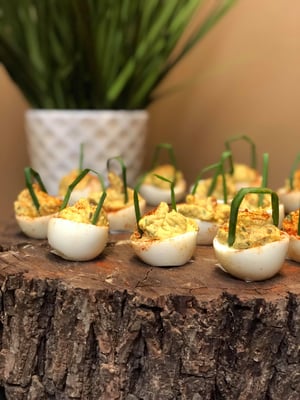 Easter Basket BLT Deviled Eggs
These 'BLT' deviled eggs are a great appetizer that are packed full of nutrients, low-carb, gluten-free, and great for all your party guests - including that one friend who is on a paleo kick! Deviled Eggs are a HUGE hit at almost any party because they are so delicious and addicting! You just keep eating them, and then next thing you know...BAM...you've eaten 6 eggs.
Typically, most people make their deviled eggs with mayonnaise to give it a creamy consistency; however, you can use non-fat greek yogurt instead which is full of protein and has much less fat than mayonnaise! If you are feeling really adventurous, you can also use plain hummus!
The most important thing to do is make sure you get the eggs perfectly cooked. The easiest way to ensure success is lower your eggs into boiling water, leave them for 15 minutes, then immediately transfer them to an ice water bath! They will peel so easy breezy lemon squeezy!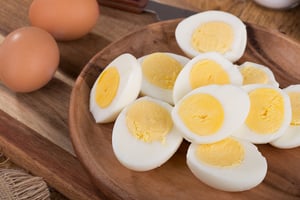 Once the eggs are peeled, cut them in half lengthwise, scoop out the yolks into a separate mixing bowl, and set the whites aside. Then throw all the other ingredients (either non-fat greek yogurt or hummus, dijon mustard, chopped bacon, diced tomatoes, dash of Worcestershire, lemon juice, and lots of chives and dill) into the mixing bowl with the yolks and mash it all
together. (You can use a food processor if you would like to give the filling an extra smooth consistency).
Once everything is well combined, take a spoon or piping bag and generously fill the cavity of each egg white with the filling. Sprinkle with paprika, and then take your 3"-4" chives and loop over the filling to create the "basket handle."
Now, sneak an egg or two….ya know for taste testing….and enjoy your party!
INGREDIENTS:
Makes 12 Eggs
6 Large Eggs
¼ cup non-fat greek yogurt OR ¼ cup plain hummus
1 tbsp of dijon mustard
1 tbsp of yellow mustard
1 tea of Worcestershire sauce
3-4 slices of bacon, cooked and chopped
2 tbsp of chopped tomatoes
1 tea fresh squeezed lemon juice
1 tbsp chopped fresh chives
1 tbsp chopped fresh dill
12 pieces of fresh chives (3"-4" each)
Paprika for garnish
DIRECTIONS
Fill large pot with water, bring to boil. Take eggs and gently lower them into boiling water. Leave eggs in boiling water for 15 minutes. After 15 minutes, immediately remove eggs and transfer them to an ice water bath. Allow eggs to chill for 5-10 minutes or until they are no longer hot to touch.
Crack and peel the eggs, then slice them lengthwise. Set the egg whites aside and scoop out the yolk into a mixing bowl or food processor. Add all other ingredients (minus the 3"-4" pieces of chives and paprika) to the bowl, and blend or mash until smooth.
Spoon a generous amount of filling into each egg white, and top each egg with a piece of chives and paprika! Enjoy!