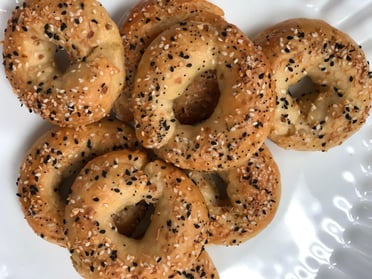 One of the quickest ways to my heart is through a fresh bagel. Growing up, I remember every weekend my grandmother would take my brother and me to a local bagel shop in my neighborhood and it seemed like every weekend the bagels were better than the week before. As I got older and realized I couldn't eat bagels everyday without the physical consequences, I was determined to find a way to make a healthy bagel that was just as good….fast forward, and here we are! These bagels are not only INSANELY easy to make, but healthy and packed full of protein, plus no fancy equipment is needed, like there is seriously no excuse for you not to make these bagels, unless you don't like bagels, which in that case we have a much bigger problem!
The first step is to take a large mixing bowl (or bowl of a stand mixer if you want) and mix together 1 cup of all purpose flour, 2 teaspoons of baking powder, and 1 teaspoon of salt (I prefer coarse Kosher salt). Then add 1 cup of plain nonfat Greek yogurt to the dry ingredients - it must be nonfat Greek yogurt, other yogurts will not give the bagels the right consistency and that perfect squeeze! Plus Greek yogurt is packed full of protein, and is what help make these bagels healthy.
Now, take a fork (or the dough hook in a stand mixer) and mix all the ingredients together until it becomes the consistency of crumbs. It will be somewhat dry. Then, lightly pack the crumbs together and dump them onto a lightly floured work surface. Now comes the messy part...but also a great way to put kids to work. You want to knead the dough until it is all incorporated and somewhat elastic, but be careful not to over knead because your bagels will become VERY rubbery and chewy if you do.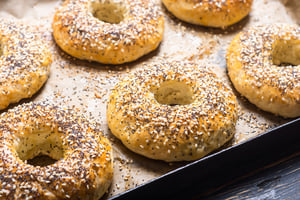 Take the dough and cut it into 4 even pieces, roll out each piece into a log a little larger than a hotdog, and then firmly press the ends together to create the bagel shape. Once all 4 bagels have been formed, lightly brush a whisked egg over the bagels. Alright, now here is where you can get funky and feisty….the toppings!!! It's what makes a bagel so much better than any other bread! You can add your favorite herbs, sesame seeds, chocolate chips, cheese, whatever your heart desires! My favorite is a seasoning from Trader Joe's that is legit called: Everything but the Bagel Seasoning, and oh my gosh, it takes me right back to the bagel shop with my grandmother.
Once you've perfectly topped your babies…..I mean, bagels…..place them on a parchment lined baking sheet and bake for 20-25 minutes at 375 degrees. Let the bagels cool for 15 minutes on a wire rack before eating them. It will be the longest 15 minutes of your life, but you have to be patient, I promise the smells will be tempting, but so worth it in the end. The longer they sit, the better the texture. Once the 15 minutes have passed and you've eaten one of the bagels, you can store the 3 remaining bagels in an airtight container for up to 4 days.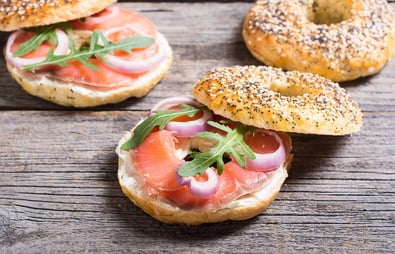 Low Calorie Easy Bagels
INGREDIENTS
1 cup all-purpose flour
2 tea. baking powder
1 tea. salt
1 cup nonfat Greek yogurt
1 egg (whisked)
Desired Toppings
DIRECTIONS
In a large mixing bowl (or stand mixer) add flour, baking powder and salt. Add nonfat Greek yogurt, and with a fork or spatula, begin to mix ingredients together until the dough is slightly formed and in a crumb like consistency.
Begin to form the dough crumbs into a ball, and transfer onto a lightly floured work surface. Begin to knead (not too much though) until dough is well incorporated and slightly elastic.
Take a sharp knife or dough scrapper and cut the dough into 4 even pieces. Take each piece and roll out into a log about 1 inch wide (a little larger than a hot dog). Take the two ends of the dough log, and firmly press them together to create the bagel.
Gently brush each formed bagel with the whisked egg, and smother each with you favorite toppings. Transfer bagels onto a baking sheet lined with parchment paper, and cook at 325°F for 20-25 minutes. Remove bagels from oven and cool for 15 minutes on a wire rack before enjoying. Can be stored in an airtight container for up to 4 days.