Sheet pan dinners are very addictive because they taste amazing, are insanely easy, and good for those of us who are "too busy to cook!" Especially with the weather starting to get warmer, who wants to spend hours in the kitchen cooking an extravagant dish?!
This dinner is not only easy to make but cheap..a win win! It's so easy, it barely even requires a recipe, just mixing some spices together!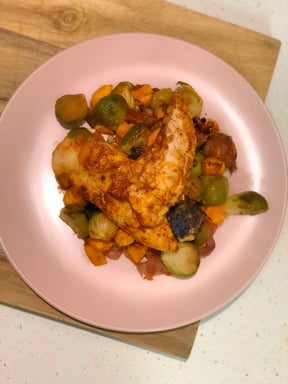 Alright, let's do this! *que Rocky theme song* T-minus 35 minutes until dinner is ready! Start by cubing the sweet potatoes and halving the brussel sprouts. Add them to a large mixing bowl and add all the spices: honey, salt and pepper, garlic, half of the olive oil, and…...wait for it…...PROSCIUTTO! I love prosciutto so much, it's like thinly sliced bacon, so obviously goes with everything, and it's fun to say! Go on, try it! Say 'prosciutto' out loud in your best Italian accent and tell me you don't feel fancy!

Give the veggies a good toss with a fork or spatula, and set aside.

Now take your sheet pan and add your chicken tenderloins to it. Generously season them with salt and pepper, chili powder, garlic, olive oil, lime juice, and sriracha! Be sure to toss them around and make sure each tenderloin is evenly coated, and then add the veggies to the sheet pan! Now, shake shake shake, shake shake shake, shake your sheet pan to ensure the veggies and chicken are all in one single layer!

Bake at 425° for 25 minutes! Once it's done, serve it up, high five yourself and enjoy the rest of your evening because you just made dinner in 35 minutes (or less)! See, I told you that it is SUPER easy!

If you decide to make this recipe, or any of the other ones we've shared, be sure to snap a picture of it and send it to us or share it with the hashtag #CookingWithCalotren

EASY 30 MINUTE SHEET PAN DINNER

Serves 4




INGREDIENTS

16 oz Brussel Sprouts

3 medium sweet potatoes

3 oz. prosciutto

8 chicken tenderloins

2 Tbsp Honey

4 Tbsp Olive Oil

3 cloves minced garlic

1 tbsp chili powder

2 freshly squeezed limes

2 Tbsp Sriracha

Salt and Pepper to taste




DIRECTIONS
Peel and cube sweet potatoes, and half brussel sprouts. Add to large mixing bowl.

To the mixing bowl, add honey, 2 tbsp. Olive oil, 2 cloves minced garlic, salt and pepper to taste and hand tear the prosciutto into bite sized pieces.

Stir well with fork or spatula.

To sheet pan, add chicken tenderloins.

Generously season with 1 clove minced garlic, 2 tbsp. Olive oil, chili powder, lime juice, and sriracha.

Add veggies to the sheet tray and shake to ensure they are in a single layer.

Bake at 425° for 25 minutes!

Enjoy!